The call came out in March, hundreds of immunizers were to be hired by the different health authorities to be a part of mass immunizations against COVID-19. Medical doctors, nurses, pharmacists, midwives, dentists and Naturopathic physicians (ND) were needed. When COVID first hit Vancouver in March 2020, I took time to become certified as an ND immunizer by completing a virtual 20-hour course. Prior to this, I had done other courses pertaining to immunization and understanding the process of designing, manufacturing and administering but also the vaccination schedule, benefits and risks by an expert colleague ND immunizer. I felt ready to join the efforts and applied to Vancouver Coastal Health to be available on Fridays.
As more public health nurses started to return to the community, other professionals were placed at the clinics. My first day (a 12 hour shift!) was at the Kerrisdale Community Centre. We vaccinated 808 people with the Moderna vaccine that day, I personally gave 61 injections. I rotated through 3 different positions – an immunizer, tending to the aftercare section and reconstituting/drawing up the vaccines themselves. The community centre was transformed into a very well organized factory – other organizations (in this case, staff of the PNE) did the hosting part – signing people in, ushering the lines and giving out the "I'm COVID vaccinated" stickers. The community came together beautifully to achieve this huge undertaking. I have since worked at the Vancouver Convention Centre where 3,300 people received the Pfizer vaccine that day and am off this week to the UBC clinic, returning to Kerrisdale weekly until the end of September.
When a person sits down at my station, I enter their information into my computer and verify them in the system to keep record of their vaccine type (Pfizer or Moderna), lot number and site of administration. I then ask some questions about their health in general, confirm their age, ask about any serious allergic reactions or tendencies towards fainting with needles (those with needle fears can be vaccinated laying down in a quiet space). I also confirm if this is the second dose (it is noted in the system, but best to verbally ask too) and inform them that they will receive the same brand as the first. The side-effects of the vaccines are clearly reviewed and the after care is explained. Once I have administered the vaccine (which doesn't really hurt and is done in less than 2 seconds), there is a 15-minute waiting period at aftercare. My favorite station is the family station. Only experienced professionals are able to immunize youth and time is taken to go over the pros and cons and side effects of both getting and not getting the vaccine. Youth in BC are able to make their own informed medical decisions, even if they differ from their parents' choices. It has been an honor to educate and immunize the public during these unprecedented times.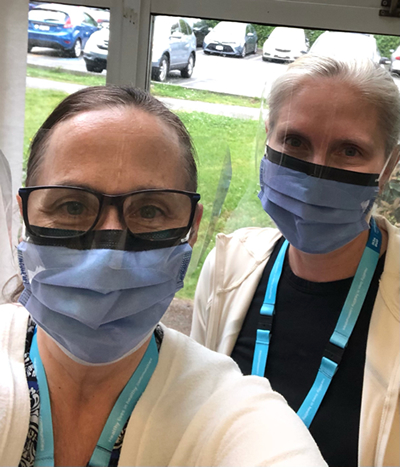 My experience has been very positive. Witnessing the many professional disciplines come together in health for a united front is extremely unique. I have answered many questions about Naturopathic medicine both to the general public and fellow immunizers – possibly even convincing a pharmacist to switch to our profession! Several public members have commented on being surprised to see an ND providing vaccines and a few even made the final decision to get vaccinated right in front of me because I am an ND. People receiving their immunization are extremely grateful and thank me for helping with the efforts and leave my station with a smile. Others are just thankful that the needle wasn't nearly half as bad as they thought!
So, I apologize to my wonderful patients for delays with appointments during the next few months as I have condensed my work week to Monday, Tuesday and Wednesday until the end of September. This experience has been invaluable, and so far it seems like all of our efforts to return to normal are going in the right direction. If you book your vaccine at Kerrisdale CC on a Friday, be sure to wave or come to my station for your immunization!