PRP for Hair Loss - Thicker, fuller hair can be yours
PRP hair rejuvenation is being recognized as one of the most effective treatments for thinning hair. The popularity of the treatment is due to the fact that it is an all-natural hair treatment, with no side effects. Platelet-Rich Plasma, known as PRP, has been shown to be an effective treatment for androgenic hair loss as well as various other forms of hair loss in both men and women. ¹ ¹¹
About the Treatment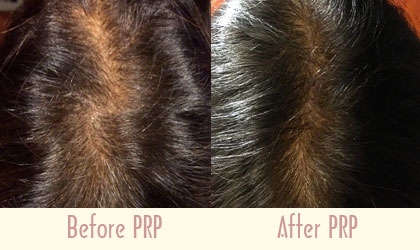 The procedure begins with a small volume of the patient's blood being drawn and then centrifuged to separate and concentrate the platelets into the plasma. The PRP is drawn into a syringe containing calcium chloride, which activates the platelets. Activated platelets release growth factors, the proteins responsible for repair and regeneration of tissue, including hair. The activated platelets are then introduced to the affected area by fine needle injection.
Patients report a high degree of tolerability, but for those patients that are sensitive or apprehensive, a local anesthetic can be used to reduce the sensation.
The entire procedure takes approximately an hour with much of the time being allotted for the PRP preparation. Come visit us on our Vancouver clinic.
Results are not immediate and may take 3-6 weeks to notice hair thickening. 2-4 treatments, 4-8 weeks apart are generally required.
¹Khatu, Swapna S et al. "Platelet-Rich Plasma in Androgenic Alopecia: Myth or an Effective Tool." Journal of Cutaneous and Aesthetic Surgery 7.2 (2014): 107–110. PMC. Web. 4 Jan. 2016.
¹¹V. Cervelli, S. Garcovich, A. Bielli, et al., "The Effect of Autologous Activated Platelet Rich Plasma (AA-PRP) Injection on Pattern Hair Loss: Clinical and Histomorphometric Evaluation," BioMed Research International, vol. 2014, Article ID 760709, 9 pages, 2014. doi:10.1155/2014/760709