Beautiful skin starts with SkinPen, a minimally invasive skin remodeling treatment for anti-aging, scaring, and stretch marks. It involves little downtime and no chemicals or heat. With SkinPen 94% of clients noticed an improvement in how their fine lines and wrinkles looked at one month post-treatment, and 80% of patients said they noticed and improvement in acne scars in the treated area at one month post-treatment.
What is it used for?
Microneedling is used to reduce the appearance of fine lines, facial and neck wrinkles, minimize acne scars, surgical scars stretch marks, and pore size, increase the production of collagen, reduce pigmented areas from sun damage.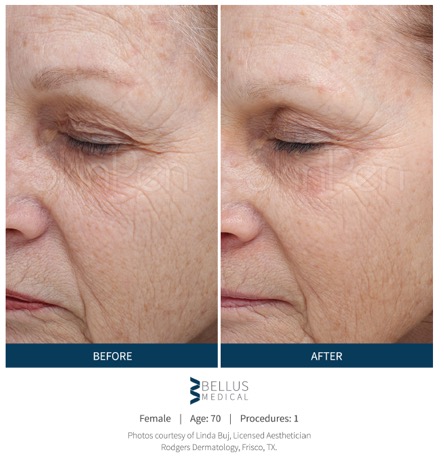 What to expect
This gentle resurfacing treatment takes approximately 60 minutes, or up to 90 min if PRP is included. It may take longer or shorter depending on what area of the body is being treated.
After the procedure you can expect redness similar to sunburn from one to two days and light to moderate pealing.
Results are seen 3-4 weeks after a single treatment, and are best when completed as a series of 2-5 treatments spaced 4-6 weeks apart. Skin remodeling takes up to 6 months, so you can expect to continue to see improvements over this time.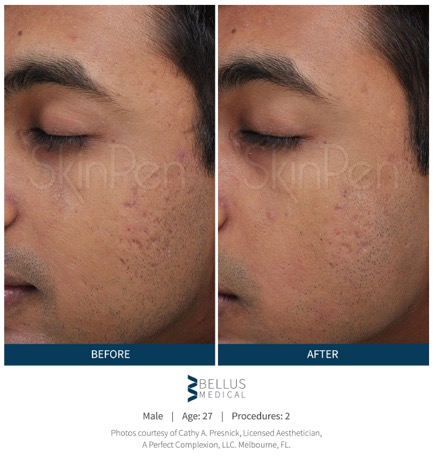 How does it work?
Microneedling involves creating controlled micro-injuries to the dermis to stimulate the body's natural wound healing process creating skin remodeling. SkinPen is an automated microneedling device with adjustable depth settings. This adjustability allows for differences in skin thickness and skin types. It is the only microneedling device which needling mechanism not spring loaded, creating deliberate punctures in and out of the skin at a 90 degree angle. This vertical technology allows for extra precision and depth accuracy, meaning better and faster results.
Safety
SkinPen is sterile, with surgical steel needles offering the safest needling possible. It is both Health Canada and FDA approved. With a cordless device and single use safety lock-out sterile needle tip, the Skin Pen offers the highest level of sanitization available for microneedling. It also comes with your personal take home recovery kit. SkinPen is safe and effective, offering the highest microneedling standard on the market.