May 2015 Issue
Spring Promotion:
Receive 10% off any services
when you mention
promo code: Vitalia Spring 2015 
*cannot be combined with any other offer
The Possible Link Between Poor Digestive Health and Anxiety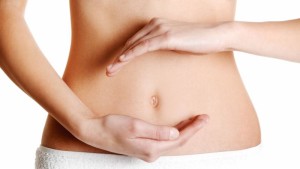 Recently I attended a conference on Organic Acid Testing. This test truly is one of my favourite tests as so much information can be learned about a person from the metabolites found in his or her urine. A particular metabolite caught my attention at the seminar. This was HPHPA, a chemical produced by a group of bacteria that live in the gut, known as Clostridia. What is interesting in my practice is the number of patients I see with Anxiety, OCD or ADHD with very poor digestive health. A large percentage of these patients also suffer from gas, bloating, constipation, and abdominal pain. From research and clinically what I see in practice, I do believe in the connection between the gut and the brain. Recognizing the importance of healthy gut flora is an integral part of understanding how to treat chronic health conditions. One cannot have a healthy body without a healthy gut. New emerging research may indicate that a healthy mind also needs a healthy gut.
The average human adult has 5 pounds of bacteria in their digestive tract. The balance between the good flora and bad bacteria can have a big impact on a person's health, especially their mental health. I became curious on the connection between Clostridia bacteria and Anxiety. Many of my pediatric Autistic patients have high levels of HPHPA on the Organic Acid test and test positive for overgrowth of Clostridia bacteria in their stool test. Many of these children also suffer from anxiety.
HPHPA can deactivate an enzyme that converts dopamine to NE in the brain. When dopamine builds up the patient will feel irritable and anxious. By treating the Clostridia, dopamine levels can return to normal levels and the patient feels less anxious and irritable.
Currently I am conducting trials in the clinic to see how treating Clostridia bacteria effects Anxiety. Many patients are already reporting reduced symptoms of anxiety, fatigue, fluid retention, gas and bloating with treatment of Clostridia.
If you suffer from Anxiety and have poor digestive health, I highly recommend you test your urine and stool for the presence of Clostridia bacteria. They may play an important role in your whole symptom picture. Both the Organic Acid test and the Microbiology stool test are available at Vitalia Health Care.  Call us today for more information!
Yours in health,
Dr. Tasreen Alibhai, ND
Roasted Sweet Potato and Quinoa Salad in a Jar
Recipe Source: PopSugar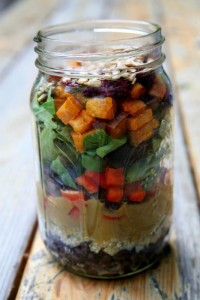 IngredientsFor the salad:
1 small sweet potato, unpeeled, diced into bite-sized pieces
1 tablespoon olive oil
Salt and pepper to taste
1/4 cup quinoa
1/2 cup black beans
1/4 red pepper, diced
2 cups greens (you choose)
1 tablespoon dried cranberries
1 tablespoon salted sunflower seeds
For the dressing:
1/4 cup mango, fresh or frozen
1 tablespoon balsamic vinegar
1 1/2 tablespoons water
Directions
Preheat oven to 400ºF.
Place the sweet potatoes in a bowl, add oil, and stir to coat. Sprinkle with a touch of salt and pepper. Spread evenly on a pan, and roast for 20 or so minutes, stirring a couple times, until the potatoes are soft.
Place the quinoa and half a cup of water in a covered pot on high. Bring to a boil, reduce to simmer, and cook for 15 to 20 minutes or until the liquid is all soaked up and the quinoa is tender.
Puree the mango with the balsamic vinegar and water, and set aside.
Allow the roasted potatoes and quinoa to cool to room temperature.
Start layering the salad in the jar beginning with the black beans. Add the cooked quinoa, and pour the mango balsamic vinaigrette on top.
Top with diced red pepper, greens, roasted sweet potatoes, dried cranberries, and sunflower seeds.
Screw top on securely, and store in the fridge.
When you're ready to eat, give the jar a good shake to mix everything up and enjoy!Enjoy!
Sincerely,
The Team at Vitalia Health Care
Also Read These Related Pages
Progesterone Anxiety Connection
A Nutrient Approach To Treating Anxiety and Mood Disorders
Anxiety Symptoms & Treatments
Considering Our Anxious Minds Moving Into Fall