At Vitalia Health Care, as part of a PRP hair rejuvenation screen, I like to review functional health factors that may impede the growth of hair in order to maximize PRP results.
One treatment I like to include is the topical application of medications, or supplements.
Rogaine (Minoxidil) is a commonly known topical agent to reduce the amount of hair loss. While many clients do not notice significant growth from the use of this medication, it is quite common for them to notice increased shedding once discontinuing, meaning it has been helping prevent the hair loss. Two common concerns with using Rogaine is scalp irritation and finding it leaves a grease texture to the scalp/hair. The reason for this is Rogaine contains propylene glycol. At a compounding pharmacy it can be requested to omit this compound.
Another commonly known medication Propecia (Finasteride) indicated for BPH, is used at a lower dose for hair loss in males. Orally this medication can have side effects on male sexual function. A lesser known administration of Finasteride is that it can be applied topically (1,4). When applied topically there is less systemic absorption, and less chance of unwanted side effects (2).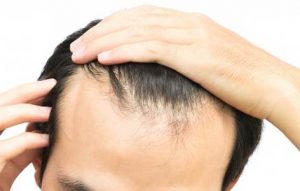 I'm sure most people have heard of or even tried Melatonin as a sleep aid. Again, less commonly known is its use in hair regeneration. It has been shown in several studies the topical use increases anagen hair growth in androgenic alopecia and diffuse alopecia (3).
I am also excited for a new formula by Hair Science available by prescription called 82F and 82 M. The 82F contains "finoxidil" a proprietary topical hair loss solution with Minoxidil and Finasteride and is free of propylene glycol. This blend is also supportive for those with sensitive scalps, or for those who suffer from skin concerns of the scalp (ie itchy scalp, atopic dermatitis and seborrheic dermatitis). 82M is for women and for men who do not want topical Finasteride.
At Vitalia we also carry Hair Science 82S shampoo and conditioner containing natural ingredients to promote hair strength and prevent hair loss. The main herb in this formula is Saw Palmetto which has been studied to decrease the conversion of testosterone to DHT, one of the main hormonal culprits in hair loss.
Elizabeth Miller, ND
1. F Mazzarella, et. al. Topical finasteride in the treatment of androgenetic alopecia:
Preliminary evaluation after a 16-month therapy course. J Dermatol Treatment
1997;8:189-92.
2. M Caserini, et. al.  A novel finasteride 0.25% topical solution for androgenetic alopecia: pharmacokinetics and effects on plasma androgen levels. Int J Clin Pharm Th July 30, 2014 (1-8).
3. Fischer, T. , Burmeister, G. , Schmidt, H. and Elsner, P. (2004), Melatonin increases anagen hair rate in women with androgenetic alopecia or diffuse alopecia: results of a pilot randomized controlled trial. British Journal of Dermatology, 150: 341-345. doi:10.1111/j.1365-2133.2004.05685.
4. Lee SW, Juhasz M, Mobasher P, Ekelem C, Mesinkovska NA. A Systematic Review of Topical Finasteride in the Treatment of Androgenetic Alopecia in Men and Women. J Drugs Dermatol. 2018;17(4):457–463.
5. https://www.hairsciencecorp.com/