What comes to mind when you think of aphrodisiac foods? Most likely oysters since are the most well-known food to make you feel frisky. Not everyone can (or even wants to!) snack on oysters every day though. Fortunately, there are several every day normal foods that are easy to incorporate into your diet:
Honey
Oh, the birds and the bees. A symbol of procreation, honey contains boron which helps regulate sex hormones. It also provides an energy boost which can be much needed in today's busy lifestyles.
Dark Chocolate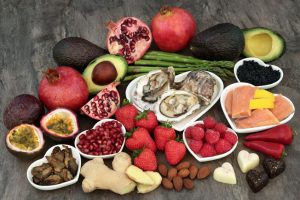 There's a reason chocolate covered strawberries are a popular Valentine's treat! A well-known sensual food, chocolate stimulates feel-good hormones and contains mood enhancing chemicals that make you feel more blissful and loving. And the strawberries? They are packed with Vitamin C which helps keep blood flowing to all regions of the body.
Pumpkin Seeds
Pumpkin seeds are high in zinc, an important mineral for sexual health particularly in males. Zinc has been shown to boost testosterone which in turn enhances sexual health and sex drive.
Avocado
This ever so popular fruit (yes, it's a fruit!) was used by the Aztecs as an aphrodisiac. Avocado is a great source of Vitamin E- a potent antioxidant that increases blood flow and oxygen to the nether region.
Watermelon
High in lycopene, watermelon may have a Viagra-like effect as it relaxes blood vessels and improves circulation.
Try this delicious and healthy recipe to bring these libido-boosting foods into your diet:
Cranberry Pumpkin Chocolate Bars
Adapted from Navitas Organics
1 cup Organic Unrefined Coconut Oil
1 cup Cocoa or Raw Cacao Powder
2 Tbsp Raw Organic Honey
1/2 cup Dried Cranberries, unsweetened
1/2 cup Raw Walnuts
1/2 cup Raw Pumpkin Seeds
1/4 cup Organics Chia Seeds
1/2 cup Coconut Flakes
Ingredients:
Melt coconut oil in a skillet on low to medium heat. Once coconut oil is completely melted, add in Cocoa or Raw Cacao Powder and mix well. Once combined, add in honey. Stir for a few minutes to let all ingredients fuse together.
Turn the heat off and add Dried Cranberries, Chia Seeds, walnuts, pumpkin seeds and coconut flakes to the mixture. Stir until combined.
Pour mixture into a parchment-lined 9×6 pan. Refrigerate for 20-30 minutes to let mixture set. Take out of fridge and sprinkle additional toppings for some color and extra crunch, if desired.
Refrigerate for 1 hour until chocolate mixture has completely hardened. Once set, take out of fridge, cut into squares, and let thaw out for a couple minutes before eating.
Makes about 12 bars