The bout of heat and sunshine we've been enjoying is a much-welcomed sign that summer is on its way!
But with food truck festivals and craft beer markets popping up every weekend, and ice cream parlours and fish & chips stands extending their hours, there are many opportunities to indulge a little too often, and we may end up unintentionally compromising our health goals.

To avoid this from happening, I recommend setting an intention for a balanced summer, and identifying ahead of time some healthy summer treats and activities that you truly enjoy, and can make up the majority of your leisure time. Here are my favourites:
1. Reserve fruit for summer
Because summer fruit is available to us all year round, it's hard to see it as a treat anymore. By avoiding it at other times of the year, these fruit become extra tasty when we enjoy them in the summer only. So indulge away on all the local cherries, berries, peaches and watermelon that are coming our way. (They're also a great option to satisfy a sweet tooth!)
One of my favourite summer activities is berry-picking as it is relaxing, outdoors, meditative, affordable and something that can be enjoyed solo or with others. Take the kids, too, for a fun and healthful family activity!
2. Cool down wisely
It is easy to opt for too many ice cream cones, cold beers or pop slurpies to combat the heat. But, there are some great alternatives that we can plan for ahead of time!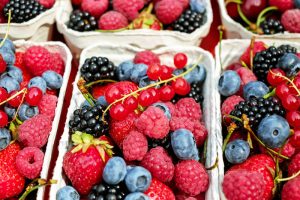 My favourite alternative to ice cream is a smoothie. These can easily be made at home for a breakfast, snack or sweet option in the evening, or, can be purchased on-the-go at a juice bar! For beer and cocktail lovers, kombucha is a refreshing alternative (just be sure to read the label and avoid those with added sugar), and because it's fermented and full of good bacteria, it can support gut health while we're indulging more than usual.
Also, it is essential – especially at this time of the year – to stay hydrated by keeping your water intake up! There are ways to fancy-up this daily routine by infusing a jug of water with fresh fruits and herbs like blueberries and basil, or lemon and thyme.
3. Focus on the setting
If you have any dietary restrictions or simply want to maintain a healthy lifestyle, it can be a challenge to socialize with others who may not have the same health goals or guidelines. My recommendation is to focus on the environment – the setting and the company – so that the food becomes secondary.
For example, if you're dining out, opt for the patio and take in summer breeze and lively energy. Choose a salad with a protein for dinner rather than the share plates. For an alcoholic beverage, choose vodka or a dry white wine if you would like a low sugar option.
Another idea is to host a barbeque or picnic, where people can eat whatever they like! On the barbecue, I recommend grilling a freshly caught wild salmon alongside local corn on the cob and skewers of peppers, onions, zucchini and tomatoes! Simply marinate the salmon and skewers in a little bit of good quality olive oil, unrefined salt and pepper for an hour before firing it up. Mmm!
My all-time favourite picnic is enjoyed post a farmers market shop. I make sure to carry a pocketknife, napkins and blanket, and then select some fresh fruit, cheese and bread, and park myself with a loved one, a pillow or a good book. Often all three. The Trout Lake Farmers Market is definitely top of mind for this kind of picnic.
By being in the beauty of nature and immersed in the company of good friends or soulful hobby, it's hard to feel deprived. So plan ahead for a summer full of healthy pleasures– and reserve a little time for those not-as-healthy indulgences, too.