Vitalia Health Care would like to welcome Dr. Quinn Rivet to our team! He is known as "The Kidney Guy" in the naturopathic community and we are very excited for him to join our team!

Dr. Rivet has been practicing for 20 years and used to instruct at the naturopathic schools in Canada for 13 years. He taught pathology, laboratory diagnosis, genetics and geriatrics and was Chair of Nutrition at the Boucher Institute of Naturopathic Medicine. Dr. Rivet has a special interest in kidney disease, dialysis and transplantation, heart health, high blood pressure, prostate …just to name a few! Call us today to find out more information or to book a consultation with Dr. Rivet at 604-566-9355!
Winter time and SAD
Winter is quickly approaching. For many people, the winter months can be a time of mild depression. If you suffer from the winter blues, you may actually have a condition known as Seasonal Affective Disorder, or SAD. Reduced sunlight during the winter months can cause a drop in your levels of serotonin (a brain chemical that normally makes us feel happy). 15% of Canadians will experience at least one episode of SAD in their lifetime.
Symptoms of SAD include oversleeping, low energy, weight gain, craving sugar, isolating yourself from others and depression.
Naturopathic Medicine has some great natural solutions for SAD. Here are some of my top favorites:
Vitamin D. Most people living in Vancouver have low levels of Vitamin D due to our cloudy weather and reduced exposure to sunlight. Research indicates low levels of 25- hyrdroxy-vitamin D is associated with SAD. Taking 4000IU of VitaminD3 can help alleviate symptoms of depression and SAD.
Vitamin D3 levels can be tested by a simple blood test. If your levels are lower than 90nmol/L, I suggest taking at least 4000 IU of Vitamin D3.
Fish oil and Omega 3 EFA's are critical for the proper functioning of our brain neurotransmitters. Since our brain is about 60%fat, it makes sense to have a healthy balance of Omega 3 and Omega 6 EFA's in our diet. Most people are low in Omega 3's. That is why I recommend at least 1000mg of EPA and DHA to maintain a healthy emotional balance and prevent SAD.
Vitamin B6 is helpful in treating SAD. I recommend a good B Complex with additional Vitamin B6 in the form of Pyridoxal 5 Phosphate.
Light therapy is also recommended when treating or preventing SAD. Light therapy involves sitting in front of a full spectrum bright light source daily for at least 30 min everyday. Light therapy can significantly reduce depression in SAD in 80% of cases. This treatment can work right away or may take up to 2 weeks to see an effect. Macdonald's Pharmacy at the ground level of the Regent Medical Building (2184 W Broadway) has light boxes that can be rented or purchased.
In severe cases of depression, anti-depressants may be prescribed by your doctor. I suggest trying the safe natural alternatives I have listed before taking prescription antidepressants that can have many side effects. Our Naturopathic Doctors at Vitalia Health Care can recommend a treatment plan specific for your individualized health needs. In cases where the natural options do not work, we can also discuss low dose anti-depressants that may be right for you. Speak to one of our Naturopathic Doctors today.
Yours in Health,
Dr Tasreen Alibhai, ND
November Promotion: Save 10% on Vitamin D, B Complex, Fish oil (softgels or liquid) until November 30th!
---
Experience Bowen Therapy at Vitalia!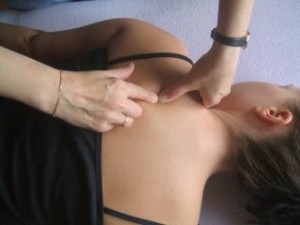 Bowen therapy is a very gentle physical therapy that treats pain and other ailments. In 1-3 sessions, discomforts can be minimized and often gone. This therapy originated in Australia during the last century and has spread world-wide at a fast pace in the last 15 years. Bowen works by sending signals to the nervous system and brain to tell contracted muscles to relax and pain patterns and cycles to be broken. Gentle moves are made on specific locations of various muscles in a sequential manor. Breaks of a few minutes between moves allows the body to integrate the signals and go into a relaxed mode. To watch a demonstration of the Bowen Technique, click HERE.
Some of the indications for Bowen therapy are: back, shoulder, knee, ankle, hip, neck, wrist and elbow pain or reduced range of motion or weakness, muscle tension, headaches, constipation, stress, menstrual irregularities, TMJ concerns, bed wetting and pregnancy discomfort. Since the technique is so gentle and safe it can be performed on children, during pregnancy and on the elderly population. Often relief is felt after the first 45-minute session with maximum effects seen between 3-5 sessions. "Tune-ups" can be done every few months to ensure proper balance within the body is maintained.
November Special: To experience a Bowen session at 25% off during November, please contact Vitalia Healthcare and book an appointment with Dr. Luis.
---
Ginseng May Prevent Colds, Ease Symptoms
Study: Ginseng may prevent colds, ease symptoms
Dr. Quinn Rivet B.Sc., N.D.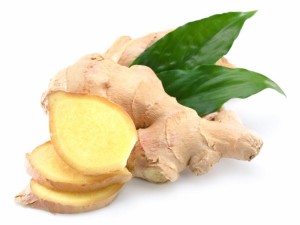 In a study published in the Canadian Medical Association Journal, the researchers compared the effects of North American ginseng (Panax quinquefolium) supplements and an inactive placebo when it comes to warding off colds or reducing their severity. The researchers compared these effects by randomly assigning 323 adults to receive either 200 mg per day of ginseng in capsule form or a placebo for a period of four months. Neither the participants nor the investigators knew who was getting which treatment while the treatment was being given.
Over the next four months, participants who received the ginseng capsules reported suffering from less colds and overall less colds symptoms!
Experts also caution against using ginseng if you are pregnant, on blood thinners, have high blood pressure, irregular heart rhythms, diabetes, or some other medical conditions, so talk to a doctor before you use it. As well, because the composition of supplements can vary from product to product due to a lack of regulation, you may see a difference in results.
Efficacy of an extract of North American ginseng containing poly-furanosyl-pyranosyl-saccharides for preventing upper respiratory tract infections: a randomized controlled trial . CMAJ October 25, 2005 vol. 173 no. 9 1043-1048.
A traditional herbal tea to keep you warm and immune system in antiviral mode:
1 Part Ginger root
1 Part Green tea
1/4 part lemon Balm
½ part Thyme
Drink 2-3 cups of tea per day.
---
Gluten Free Recipe
Apricot and Fig Roasted Turkey Breast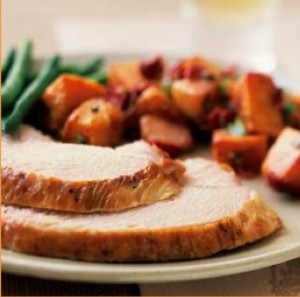 (Recipe source: Whole Life Nutrition Cookbook)
Try this delicious recipe, perfect for the Fall season!
Recipe:
Serves 4 to 5
1 organic bone-in turkey breast, about 2.5 to 3 pounds
1/4 cup apricot jam
1/4 cup balsamic vinegar
1/4 cup water
2 tablespoons extra virgin olive oil
1 tablespoon finely chopped fresh oregano
1 teaspoon sea salt
1 small leek, chopped
8 to 10 fresh black mission figs
1. Rinse the turkey breast and place into a baking dish
2. In a separate small dish, whisk together the apricot jam, balsamic vinegar, water, extra virgin olive oil, chopped oregano, and sea salt. Pour over turkey breast. Place leeks and figs on the bottom of the pan around the turkey. Cover the pan and refrigerate for one to four hours, or overnight.
3. Preheat oven to 325 degrees F. Place pan of turkey with marinade in preheated oven and roast for approximately 1.5 to 2 hours, or until juices run clear. A meat thermometer inserted into the thickest part of meat should read approximately 170 degrees F. You can also bake at 200 degrees F for 3-4 hours, which makes the meat slightly more tender.
4. To serve, cut the turkey into slices and place the figs, leeks, and juices over the turkey slices.
Enjoy!
---
Sincerely,
The Team at Vitalia Health Care