Summer brings a flurry of BBQs, picnics, ice cream outings and late nights. Here's your best
strategy for enjoying yourself while not going overboard.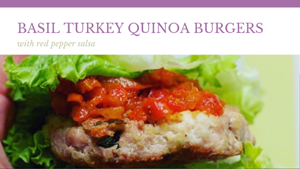 Make protein and veggies your priority at every meal.

The combination of protein and fiber will keep you full for longer, stabilise blood sugar and will combat the sudden urge for a carb binge. No need to focus on perfection here: do your best with what you have available to you. At a BBQ? No problem- grab a burger (or veggie burger) and load it up with veggies. Even pickles count so long as they aren't the sweetened variety. Bonus points if you use a lettuce wrap instead of a bun.

Stay hydrated.

This might seem obvious…but it sure is easy to forget when you are busy on summer adventures. When it's hot out, if you're drinking more alcohol than usual or you're exercising outdoors more your water needs increase. Aim for 10 – 12 glasses every day and more if you're active or actively drinking (coffee, alcohol or both). If you're not into water or want to boost the health benefits: add herbs and fruit. Mint, ginger and basil will help digestion and combat bloating. Lemon will help your liver out. Fruit and cucumber add a tasty flavour.

Choose dessert or alcohol, not both.

Sugar and alcohol in the same outing is the fastest way to bloating, sugar hangovers and generally feeling terrible the next day. It also delivers a blow to your waste line. I'm not saying you should never enjoy either but steer clear of having both at the same time. If you enjoy a crisp glass of wine in the summer skip dessert and load up on veggies at dinner. If you have a sweet tooth, savour that dessert and stick with a hydrating drink.

Don't have FOMO at food-based social events.

FOMO = Fear of Missing Out. Food FOMO can be a real issue for people especially if they have a history of dieting or restrictive eating. If you find yourself eating at social events like it's the last BBQ/party/picnic you'll ever go to…try to stay mindful that food will always be there. It's not going anywhere. Switching your mindset from "a lack of" (this will be the only chance ever to eat this*) to an "abundance" mindset (I can eat this food whenever I want to) is key to tackling food FOMO.
For a healthy grilling option, check out my Basil Quinoa Turkey Burgers:
Basil Quinoa Turkey Burgers with Red Pepper Salsa
Ingredients
For the Burgers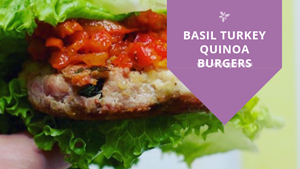 1 lb turkey thighs, ground
1/4 c quinoa, cooked
1/4 c loosely packed fresh basil leaves, finely chopped
2 tbsp. chives, finely chopped
1 tbsp. Dijon mustard
1 tsp. sea salt
1/4 tsp. freshly ground black pepper
For the Red Pepper Salsa
2 red bell peppers, sliced
Avocado oil for roasting peppers
2 roma tomatoes, chopped
2 tbsp. balsamic vinegar
Pinch or two of smoked paprika
Salt and pepper to taste
Instructions
For Burgers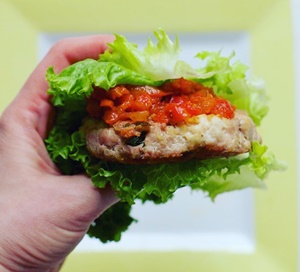 In a bowl combine turkey, quinoa, basil, chives, Dijon, salt and pepper. Without over handling, form mixture into four patties that are 1/2 inch thick. Make a thumbprint in the middle of each patty. Chill for 30 minutes.
Drizzle patties with oil and grill over medium-high heat until cooked through, 4 to 5 minutes per side.
For Red Pepper Salsa
Preheat oven to 425 degrees.
Cut bell pepper into strips, removing seeds and stem. Toss with avocado oil and roast for 20 minutes. Let cool.
Put cooled bell pepper, tomatoes, balsamic vinegar and spices into a food processor. Pulse but don't puree.