My husband refers to me as the "salad lady" because whenever we put on a dinner party I always put together elaborate salads that guests seem to really enjoy. With all the beautiful recipes easily available on Pinterest, and from cookbooks and recipe sharing with friends, it's not hard to get inspired.
Salads are a great way of getting more raw vegetables into your daily diet. And now that they're in season, it is the perfect time of year to start munching down on more veggies – especially the dark, leafy greens. Raw vegetables – and particularly greens – are so important in your daily diet because they are rich in:
digestive enzymes (that get killed in the cooking process)
minerals like iron, calcium and magnesium, and vitamins like C, A and B (which also can get killed in the cooking process)
fibre which is essential for bowel movements, and excreting excess hormones, cholesterol and toxins out of the body
antioxidants and other phytonutrients that are important for liver function, good skin and hair, circulation, radiance and longevity – basically everything!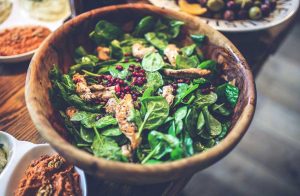 Also, because vegetables are so low calories, they are a wonderful way to fill up your dinner plate if portioning out the complex cards/proteins/fats is important to you.
The best part about salads is that you can constantly change up the ingredients and the dressings so they never get boring! You can also pop veggies and dressing in a wide-mouth mason jar and make it an easy meal to take to work or enjoy on the go.
Here are some of my favourites:
Spiced Roasted Cauliflower and Quinoa Tabbouleh:
http://westernliving.ca/recipes/2015/01/01/spiced-roasted-cauliflower-quinoa-tabbouleh/
Shaved Root Salad:
https://www.alive.com/recipe/shaved-root-salad-crispy-lentils/
Basil Goat Cheese Pasta Salad:
https://www.halfbakedharvest.com/basil-goat-cheese-pasta-salad/
Spring Fattoush Salad:
http://www.dollyandoatmeal.com/blog/2014/4/28/spring-fattoush-salad-w-a-creamy-sumac-pine-nut-sauce-and-wanting-something-more
Black Rice Sesame Salad:
https://www.mynewroots.org/site/2011/05/black-rice-is-the-new-brown-2/

Finally, this salad is currently in my weekly rotation:

Goat Cheese and Onion Salad:
Ingredients:
– baby greens
– pea shoots
– ½ – 1 whole avocado
– ¼ red onion
– ¼ cup goat cheese (chevre)
– ¼ cup dried cranberries
– dash of olive oil
– freshly cracked pepper
– ½ lemon

Fill a salad bowl with several cups of baby greens and pea shoots. Slice up the avocado. Add to the salad. Slice up the red onion into thin, long pieces. Add to the salad. Sprinkle goat cheese onto the salad, as well as the cranberries. Drizzle the olive oil on top and squeeze half a lemon onto the salad as well. Add freshly cracked pepper to taste. Enjoy!

While salads are delicious and raw vegetables are one of the most important parts of the daily diet, if raw vegetables upset your digestive tract and lead to unhappy poops, it is important to address this first with your healthcare provider before adding more to your plate. A difficulty in digesting raw vegetables may indicate that your digestive tract could use some support in order to safely consume raw veggies.