Despite what feels like an endless winter, spring is certainly on it's way. Spring is the time of rebirth and is energetically appropriate then to set resolutions, cleanse our diets and, of course, doing a little spring cleaning. [Click here to read all about why Spring is my preferred time to celebrate New Year in the latest edition of Edible Magazine]
When it comes to sorting and purging the home, the clothes in the closet, the boxes in the basement and the papers in the office are typically where we spend our energy. The kitchen isn't typically top of mind as a priority room to sort through. However, if changing your diet, cooking more at home, or reducing your exposure to toxins is a priority for you, I highly recommend putting the kitchen at the top of your spring cleaning list!
There are many ways to cleanse the kitchen. Here are a few:
1. Keep it neat and tidy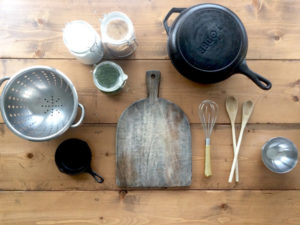 There's nothing like waking up to a clean kitchen to set your day off on the right foot. Research has even shown that keeping your kitchen clean is associated with making wiser food choices!
I recommend getting into the habit of doing your dishes before turning in every night. I also recommend organizing your cupboards so items are easy to find and access, and cleaning out the fridge of any stale food on a weekly basis.
2. Toss out the condiments:
Besides ditching the junk food, there are many chemicals and additives in store-bought salad dressings, nut butters, ketchup, pickles, soy sauce and other sauces that need to be tossed, too. Certain ingredients to look out for are sugar (which can fall under other names like maltodextrin and corn syrup), natural flavouring, food colour and MSG.
An easy alternative to store-bought salad dressing is homemade vinaigrette: one part lemon juice to 3 parts olive oil, with added salt, pepper and herbs to taste
3. Switch out your pots and pans
Non-stick pans can also be highly toxic. Many scientists have linked the use of these products with a variety of health concerns such as thyroid issues and infertility.
Try baking with glass, and cooking in stainless steel or a well-seasoned cast iron pan – which gives you a boost of iron in every meal!
4. Ditch the plastic
Plastic is a known endocrine disruptor and can lead to various hormonal issues. Plastic can be found in our storage containers, cutting boards, plastic wrap, cooking utensils, lunch bags and water bottles.
Instead of plastic lunch bags and storage containers, opt for glass. The old-fashion wooden spoon can easily replace the plastic version. Mason jars also make excellent storage containers. And paper bags and parchment paper can be great alternatives to plastic wrap.
If you're not in the market to replace all of these items at once, make note of them for the next time something needs replacing – when a pan is worn out or when a plastic container breaks – and select a more healthful purchase then.
If you'd like to dig deeper…
Vitalia is offering my At home Visit package for $35 off this month ($165, regularly $200)! If you'd like me to design your kitchen to meet your wellness goals, this is a great time to sign up. Learn more about all that's included in the package here.
Spring's also the ideal time to do a detox (because the body is naturally ready to shed the excesses of winter) and the next West Coast Cleanse protocol happens in March! Learn more about the program and how to sign up here.