What is the Gut Microbiome?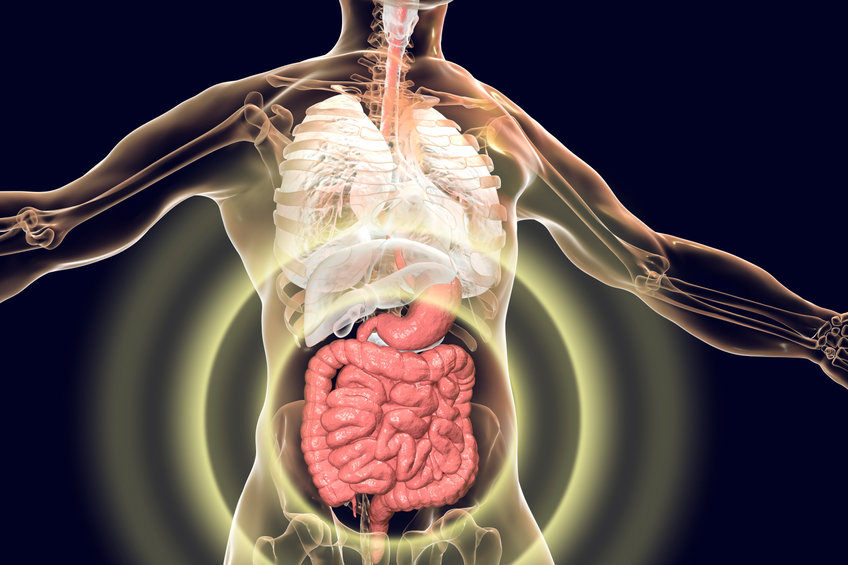 The gut microbiome is the collection of microorganisms, including bacteria and fungi, that live in the digestive tract. These microorganisms play a crucial role in maintaining good health by helping to digest food, producing vitamins, and producing neurotransmitters like serotonin. They also help to regulate the immune system and protect against harmful pathogens. Imbalances in the gut microbiome, known as dysbiosis, have been linked to a variety of health conditions including obesity, diabetes, irritable bowel syndrome and autoimmune disorders.
Symptoms of an Imbalanced Gut Microbiome
Symptoms of an imbalanced gut microbiome can include digestive issues such as bloating, constipation, and diarrhea, as well as skin problems such as eczema and acne. Other symptoms can include fatigue, brain fog, and mood imbalances such as anxiety and depression. Some research has also suggested a link between an imbalanced gut microbiome and autoimmune conditions, obesity, and Type 2 Diabetes. It's important to note that many of these symptoms can be caused by other factors, so it's important to consult with our healthcare professionals if you're experiencing any of them.
Testing for an Imbalanced Gut Microbiome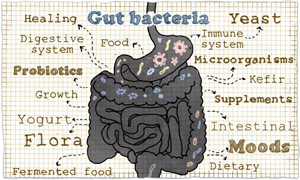 Testing options for an imbalanced gut microbiome include a stool test, which can help identify the types and levels of various bacteria present in the gut. Other tests such as breath test, and urine test can also be done to identify imbalances in the gut microbiome. These tests can be done at home. Consult with our healthcare professionals to determine which test is right for you.
Nutrition & the Gut Microbiome
Nutrition plays a significant role in shaping the composition and function of the gut microbiome. A diet that is high in processed foods, sugar, and saturated fats can lead to an imbalance in the gut microbiome, known as dysbiosis. This can increase the populations of harmful bacteria and decrease the populations of beneficial bacteria, leading to inflammation and a variety of health issues like diabetes and insulin resistance.
On the other hand, a diet that is high in fibers like fruits, vegetables, nuts, legumes and whole grains can promote the growth of beneficial bacteria in the gut. These foods are rich in fibers and non-digestible carbohydrates that are fermented by the gut bacteria, providing a source of food and energy for them. This fermentation process can lead to the production of short-chain fatty acids (SCFAs) which have anti-inflammatory and immune-regulating effects.
Our Holistic Nutritionist Can Help You Transition to a Microbiome Friendly Diet
Suddenly increasing your intake of dietary fiber from fruits, vegetables, nuts, whole grains and legumes can cause some discomfort, and may even lead to abdominal pain, bloating, gas, diarrhea or constipation. This is because when you suddenly increase your intake of fiber, your gut bacteria may not be able to adapt quickly enough to break down and ferment the additional fiber. This can cause the fiber to pass through the gut undigested, which can lead to the aforementioned symptoms.
It's important to increase fiber intake gradually, rather than all at once, to give your gut bacteria time to adjust and to allow your body to get used to the changes. Our Holistic Nutritionist will help you implement a nutrition plan that gradually increases your fiber content from the right foods.
Stress & the Gut Microbiome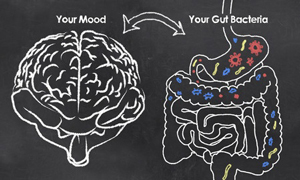 Stress can affect the gut microbiome by altering the balance of bacteria in the gut. When a person is stressed, their body releases the hormone cortisol, which can disrupt the normal functioning of the gut. This can lead to changes in the types and amounts of bacteria present in the gut, as well as changes in the way the gut functions. Stress can also lead to inflammation in the gut, which can further disrupt the balance of bacteria.

Our holistic nutritionist can help you implement stress management techniques, such as deep breathing, meditation, and movement, which can help to improve the health of your gut microbiome.
Medications & the Gut Microbiome
Certain medications can affect the gut microbiome. Antibiotics can kill off beneficial bacteria in the gut, leading to imbalances in the microbiome. Other medications, such as proton pump inhibitors (PPIs) used for acid reflux, have also been linked to changes in the gut microbiome.
If you have required these medications, our Holistic Nutritionist can provide you with a microbiome nourishing nutrition plan to avoid causing imbalances in the gut.
A Gluten-Free Diet & the Gut Microbiome
A gluten-free diet has been shown to reduce a type of beneficial bacteria called Faecalibacterium prausnitzii which is an important species of the gut microbiome. If you require a gluten-free diet, our Holistic Nutritionist can help you incorporate other gluten-free foods that can increase numbers of this beneficial bacteria.
Take Care of Your Gut Microbiome & Your Gut Microbiome Will Take Care of You
Taking care of your gut microbiome is crucial for maintaining overall health and well-being. Our holistic nutritionist can give you a personalized plan to support your gut microbiome using simple, sustainable food and lifestyle changes.