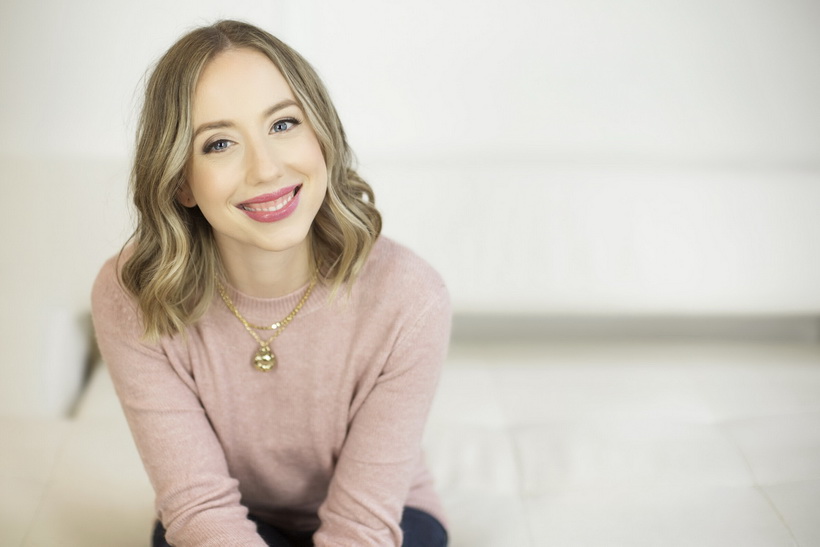 Proper nutrition plays a critical role in maintaining good digestive health. Eating a balanced diet that includes a variety of fruits, vegetables, whole grains, and lean proteins can help support the function of the digestive system and prevent common issues such as constipation, diarrhea, and indigestion. Additionally, adequate intake of essential nutrients such as fiber, probiotics, and water can support a healthy gut microbiome, which is crucial for overall health and well-being. By focusing on what and how much you eat, you can help ensure that your digestive system is functioning at its best.
Our Holistic Nutritionist Can Help You Achieve Optimal Digestive Health
Our holistic nutritionist uses a whole person approach to help you achieve optimal health and well-being. This approach considers you- the individual- as a whole, rather than focusing on specific symptoms or illnesses.
Schedule an Appointment
When it comes to digestive health, our holistic nutritionist will help you identify any potential underlying causes of digestive issues, such as nutrient deficiencies, food sensitivities, or an imbalanced gut microbiome. She would also assess external factors such as stress, movement, sleep and lifestyle that may be contributing to your digestive issues.
Our holistic nutritionist would then develop a personalized nutrition and wellness plan, which may include recommendations for specific foods, supplements, and lifestyle changes to improve the health of the digestive system. Specific dietary protocols may be recommended such as the low FODMAP diet for Irritable Bowel Syndrome, or a GI Gentle diet for reflux and indigestion.
If you are a current client of Vitalia, our Holistic Nutritionist will work with you Naturopathic Doctor to ensure that you receive comprehensive and coordinated care.
Food doesn't have to cause pain and discomfort
Our Holistic Nutritionist will help identify food intolerances, sensitivities and triggers that may be causing your digestive distress. She works with the whole spectrum of digestive disorders including:
Small Intestine Bacterial Overgrowth (SIBO)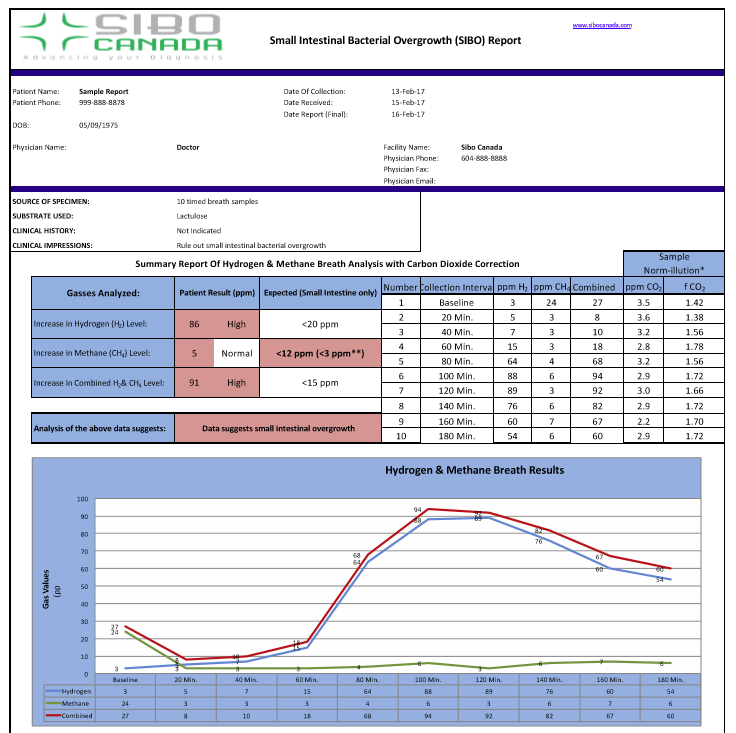 Small intestine bacterial overgrowth (SIBO) is a condition in which there is an abnormal amount of bacteria in the small intestine. This can lead to symptoms such as gas, abdominal pain, bloating, diarrhea, constipation and nutritional deficiencies. Treatment includes antibiotics or antimicrobials to reduce the amount of bacteria and dietary changes to reduce symptoms and prevent recurrence.
Many people with SIBO find that high FODMAP foods such as apple, onion, garlic, wheat and cauliflower cause extreme bloating that gets worse throughout the day. Many people with SIBO are also sensitive to high starch foods such as rice and pasta. Our Holistic Nutritionist will help you identify food intolerances, manage symptoms and implement a nutrition plan that supports your SIBO treatment and prevents nutritional deficiencies.
More Info
Candida Overgrowth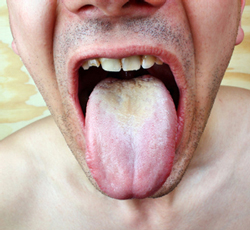 Candida overgrowth is an excessive growth of the fungus Candida Albicans in the digestive tract. Symptoms include gas, bloating, constipation and brain fog. Factors that can contribute to Candida overgrowth include a diet high in sugar and processed foods, the use of antibiotics, and a weakened immune system. It can be treated with antifungal medications or herbs, dietary changes, and probiotics.
Dietary changes are especially important in overcoming Candida overgrowth as certain foods like sugar and refined carbohydrates can feed the growth of the fungus and exacerbate symptoms.
Our Holistic Nutritionist will help you make the necessary dietary changes to overcome Candida Overgrowth and eliminate gas, bloating, brain fog and constipation.
More Info
Irritable Bowel Syndrome (IBS)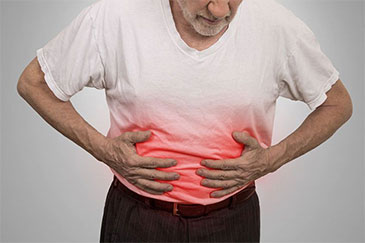 Irritable bowel syndrome (IBS) is a chronic disorder of the digestive system that affects the large intestine. It is characterized by symptoms such as abdominal pain, bloating, constipation, and diarrhea. The cause of IBS is not fully understood, but it is believed to be related to problems with muscle contractions in the gut, low grade chronic inflammation, abnormalities in the immune system, a change in the gut microbiome and a heightened sensitivity to pain in the gut.
Stress, certain foods, and hormonal changes can also trigger symptoms. There is no cure for IBS, but symptoms can be managed through diet, lifestyle changes, and medication.
A low FODMAP diet is the most effective dietary management of IBS. FODMAP stands for Fermentable Oligosaccharides, Disaccharides, Monosaccharides, and Polyols, which are types of carbohydrates found in fruits, vegetables, grains, nuts, seeds and beans that can be difficult for people with IBS to digest. When eaten, they draw water into the intestines causing gas, bloating and bowel changes. They are then fermented by the gut bacteria, causing additional gas, bloating, pain and bowel changes.
The low FODMAP diet was created by Monash University to reduce IBS symptoms and pinpoint carbohydrate intolerances. It involves avoiding foods that are high in FODMAPs, such as onion, garlic, apples, cauliflower, milk and wheat. The goal is to reduce the amount of these carbohydrates in the diet to alleviate symptoms such as abdominal pain, bloating, gas, and diarrhea then strategically reintroduce them to assess your individual tolerance.
More Info
The low FODMAP diet is implemented in three phases:
The elimination phase: This phase involves avoiding all high FODMAP foods for two to six weeks to see if symptoms improve.
The reintroduction phase: After the elimination phase, certain high FODMAP foods are gradually reintroduced back into the diet to determine which specific foods trigger symptoms.
The personalization phase: at this point, you will be familiar with which FODMAP groups you are and aren't able to tolerate and your diet is personalized to be as least restrictive as possible.
It's important to note that the low FODMAP diet is a temporary one and should be followed under the guidance of a nutritionist to avoid nutrient deficiencies.
Our Holistic Nutritionist is certified by the Monash University in the use of the Low FODMAP diet and can support and guide you through it.
Diverticulitis
Diverticulitis is a condition in which small, bulging sacs or pouches (diverticula) in the lining of the colon become inflamed or infected. Symptoms of diverticulitis can include abdominal pain, especially in the lower left side, fever, nausea, vomiting, constipation or diarrhea, and abdominal tenderness or bloating. In severe cases, diverticulitis can lead to complications such as abscesses, perforations, or fistulas.
If you have been diagnosed with diverticulitis, dietary changes are necessary to avoid future flare-ups or complications.
If you are having an acute attack, our Holistic Nutritionist will help you implement a low-residue diet for a few days to help reduce the amount of waste material that goes through the colon, allowing the inflamed area to heal.
After the acute attack, our Holistic Nutritionist will help you gradually increase your fiber intake using specific, GI gentle foods to prevent constipation and further attacks.
Book an initial consultation with our Holistic Nutritionist today if you are suffering from diverticulitis.
Gastroesophageal Reflux Disease (GERD)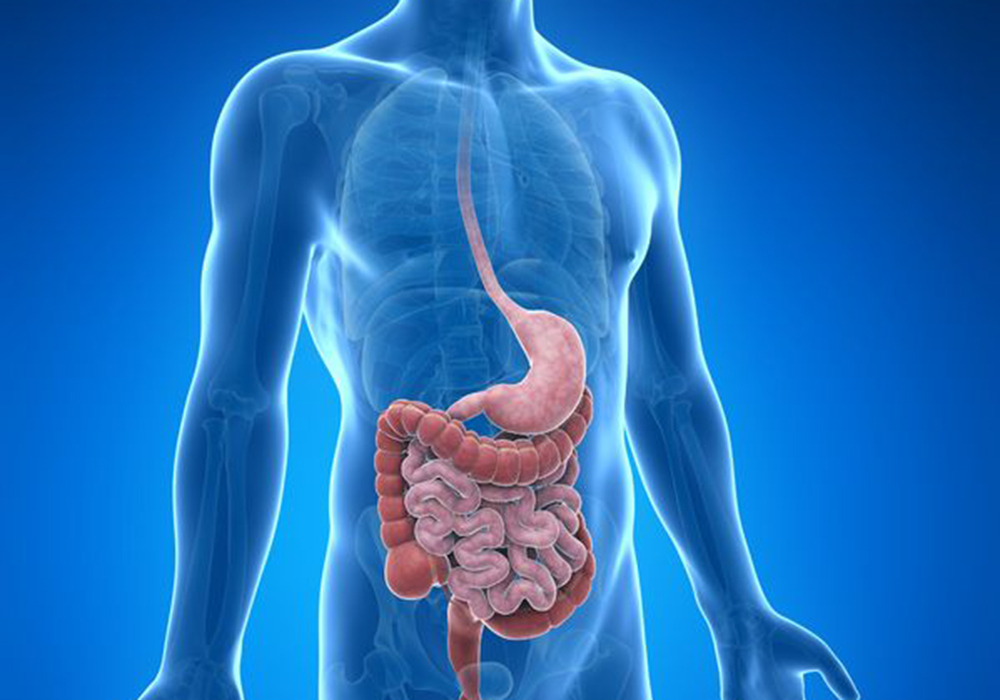 Gastroesophageal reflux disease (GERD) is a condition in which stomach acid flows back (refluxes) into the esophagus, causing irritation and damage to the lining of the esophagus. The most common symptoms of GERD include heartburn, acid reflux, and regurgitation of stomach contents. Other symptoms include chest pain, difficulty swallowing, and a persistent cough. If left untreated, GERD can lead to serious complications such as esophagitis, Barrett's esophagus, and even esophageal cancer.
Diet can play an important role in managing GERD by avoiding foods that trigger symptoms and eating foods that are less likely to cause reflux. Our Holistic Nutritionist can help you implement a GERD-friendly diet that focuses on:
Avoiding trigger foods like spicy, fatty, and fried foods, as well as citrus fruits, tomatoes, chocolate, and caffeine.
Modifying the size and texture of your meals so that they move more quickly through the stomach.
Managing the timing on your meals for optimal digestion.
Emphasizing foods that promote healthy bowel movements and digestion.
It's important to note that everyone's body is different, and what triggers symptoms may vary from person to person. Consult with our Holistic Nutritionist for personalized dietary advice and to avoid unnecessarily restricting your diet.
Food Intolerances & Emotional Well-being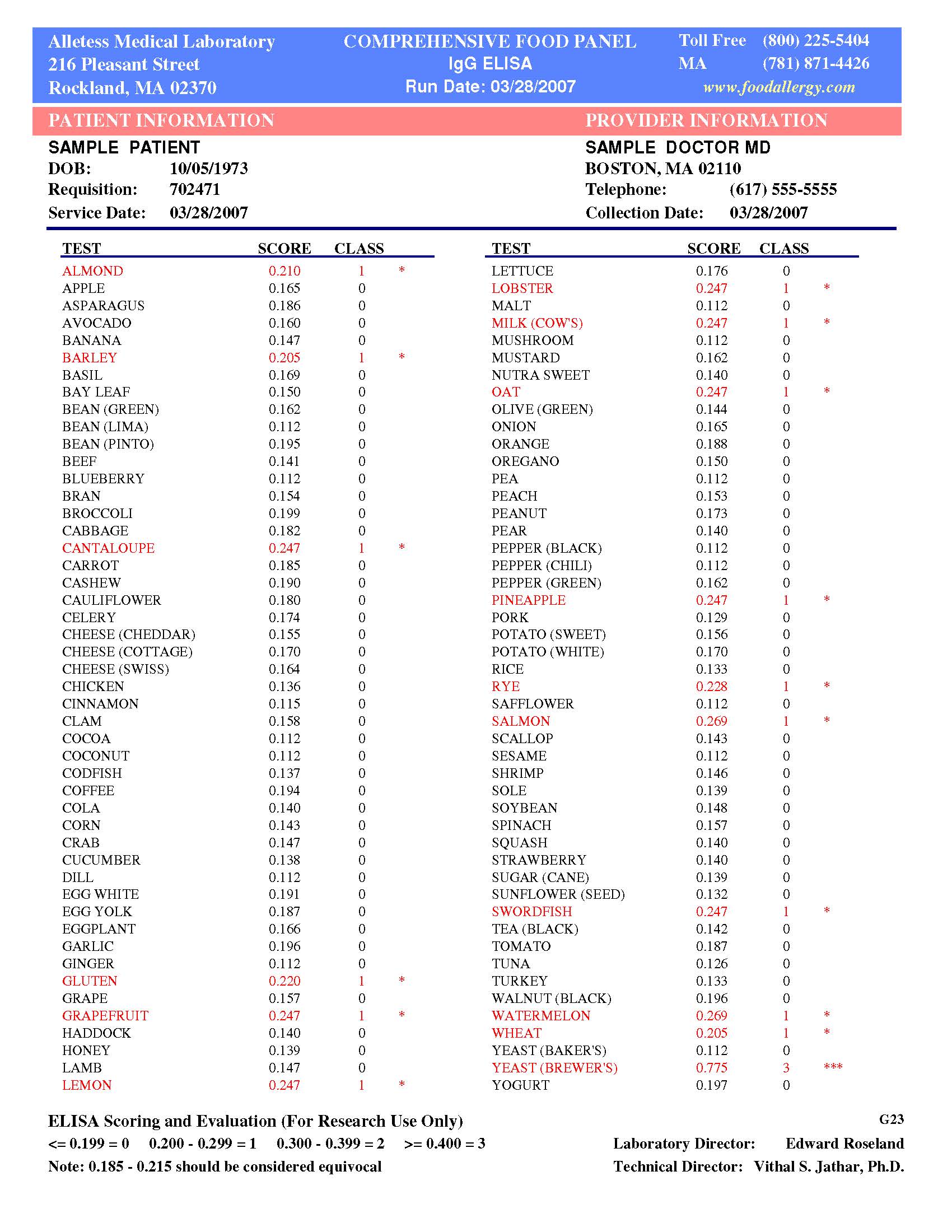 Alletess sample test
Humans have an emotional connection to food and when it causes pain and discomfort, it can have a significant impact on our emotional well-being and cause feelings of frustration, disappointment and even depression. When you feel limited in your food choices you may feel anxious about eating in public or social situations or have a fear of eating new foods. This can lead you to unnecessary restriction of your diet which may put you at risk of nutrient deficiencies.
Overall, the emotional effects of food causing pain and discomfort can be significant and can affect your overall well-being. Our Holistic Nutritionist can help you address the underlying causes of digestive issues and will develop a personalized plan to improve the health of your digestive system, reduce pain and discomfort and improve your relationship with food.
More Info
Get a Personalized Holistic Nutrition Plan and Start Your Journey Towards Better Digestive Health
Our Holistic Nutritionist will provide personalized recommendations for nutrition and lifestyle changes that can help improve digestion, reduce symptoms of digestive disorders, and help manage chronic GI disorders. She will help identify food sensitivities and allergies, which can contribute to digestive problems, and can help create a balanced and varied nutrition plan that meets your individual needs. Working with our Holistic Nutritionist can help you achieve optimal digestive health, which is essential for overall well-being.
Schedule an Appointment